It is a beautiful day for fishing, and as with every Saturday, Archie and his grandson, Aaron go fishing at their favorite spot on the lake.
On this occasion, however, Archie must relive his tragic past, he must visit his haunted memories to tell his Grandson, Aaron, that he is in fact, not his biological grandfather. Aaron does not expect to hear the in-depth recollection of Archie's sad history, but Archie desires it to be told even against the resurfaced pain it causes him.
Aaron's heartstrings are tugged at tightly while he witnesses the anguish his grandfather, Archie experiences, and yet he stands amazed at Archie's faith in God. Through all the tragedy that Archie faced, he remained God's faithful servant; he always knew God had a greater plan for him.
Grace, Aaron's mother always reminded Archie; 'It's alright daddy, God loves us.'
Aaron learned a few vital life lessons this memorable day fishing on the lake and one in particular that he would live by for the rest of his life; "Asking God 'What can I learn?' instead of 'Why me?' is a much better place to station our minds."
Soaring majestically high above Archie and Aaron a Fish Eagle searches for his prey; will he be more successful at catching fish on this day than Archie and Aaron.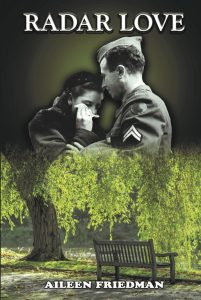 The story begins when Audrey, Dorothy, and Maisy sit under a Weeping Willow tree in a park opposite the cemetery. They fondly remember Peggy, their precious lifelong friend of sixty-two years. Their grandchildren, are sent to look for them but instead of taking them home they sit on the luscious grass under the Weeping Willow tree and get transported back in time as Audrey tells them one of the greatest love stories of all time. Audrey tells them the love story of Lt. Harvey Newsome and Sgt. Peggy Hatcher.
But it is so much more than a love story between two people. It is a story of faith, hope, happiness, tragedy and immense despair. It is a story of a group of people that depend on God to bring them through trying times and to remain faithful when it seems impossible during WWII.
A supermarket trolley gets left in danger of being run over in the parking lot. Fearing he will get damaged, he discovers he can move his wheels by himself.
Mr. Trolley goes on great adventures as he explores the city in which he lives. He meets all kinds of God's wonderful creations, but sometimes he gets into a lot of danger too. Mr. Trolley Adventurer wants you to read his stories and have fun with his friends too.
Jonathan Bales, the greatest TV talk show host in the world. Most sought after celebrity, the ideal family man and religious church member. But is he all that he is made out to be?
If Satan was a guest on Jonathan's TV show, is it possible that he'd be honest as he reveals his part in the destruction of mankind.
A cunning Satan targets the power hungry Jonathan using devious convincing methods to obtain a private interview.
After many hours of talking what does Satan actually disclose? Was it really worth all the effort and does Jonathan finally get the greatest and most powerful interview ever televised?
The devastating disease, Alzheimer's, that ravaged her mother, left the author, Aileen Friedman, inspired to share her emotional rollercoaster ride. A heartfelt and non-fictional short story told from the depths of her heart also includes humorous encounters with other residents of the home in which her mother spent her remaining days.
Included are six more short stories, all designed to encourage and inspire the reader. From the story about a beautiful but selfish model who loses everything in an accident, to an actress who finds true love on an airplane, and an alcoholic who returns to her hometown for a school reunion. The reader will also meet a woman whose life is changed when renovating a house, an elderly lady who returns home after sixty years and who is haunted by her past, and a young lady who by discovering a cosy bookstore discovers much more.
Be uplifted by seven wonderful stories, share the author's tears and happiness, and rejoice in the strength of Jesus as her characters overcome the obstacles placed in their paths.
From the coastal towns of Warner Beach in Natal to Gordons Bay in the Western Cape during the seventies Kaye Reid travels hoping to eventually find forgiveness and a new life.
She leaves behind a roller coaster life of happiness and disappointment from her High school boyfriend, her parents and her marriage.
Through new acquaintances Kaye finds God and realises that she has to rely heavily on Him to bring her through the difficult roads she must travel.

Vanda has always had a strained, volatile and unloving relationship with her mother, Dena. When Vanda and her best friend Patty meet a new group of friends they are introduced to love and also to God. There are brief moments when it seems as though Dena can change and become the mother Vanda has always longed for, but these moments are short-lived, leaving Vanda feeling more and more bitter. Egan, her Irish boyfriend, is the perfect antidote, but their plans for a happy forever are put to the test when he is forced to return to Ireland. To make matters worse, an unwanted pregnancy stops Vanda from joining him, and she discovers an anger towards her mother that consumes her. Will Vanda rely on God to get her through this traumatic time, and will Egan be the forever she has longed for all her life?
Tali's commitment to God has wavered for a long time, much to the dismay of her parents. When her surfer boyfriend Cole starts searching for salvation, Tali is drawn back to her Saviour to serve Him.
Just as Tali and Cole's lives become increasingly perfect a series of events happen within a short space of time.
Out of these enormous trials facing Tali, a friendship grows unexpectedly with surprising results.
Tali has to get strength from her family, her friends and colleagues, but mostly she has to rely on God.