Part three:
Chichen Itza; the first and most important rules – take a hat, cap, or umbrella, sunblock and lots of water it gets blistering hot as you walk between the ruins.
The ruins or temples were built by the Mayans as far back as 700AD. Their engineering and architecture is nothing short of genius. If you are interested in the history of the Mayan's watch these two videos; their history is very fascinating.
https://www.youtube.com/watch?v=s151jVxpx2E&t=1354s
https://www.youtube.com/watch?v=s151jVxpx2E
Arriving at Chichen Itza, is a fairly organized event. You can park in the immediate area for $30mxn (best be early as it is not a very big parking area), in a public parking spot a few meters away from the entrance for $50mxn or you can park on the side of the road and not pay anything. No matter where you park your car will be safe, there is a prominent police presence everywhere.
There will be a queue of people waiting to get in; you can be sure of that. There are market stalls for those not waiting in the queue. The entrance fee is $240mxn for non-nationals and citizens and $168mxn for citizens or residents. If paying with a credit card, you will be charged two fees. One transaction goes to the museum of anthropology, and the other goes to the Federal. It is open from 8 am – 4 pm, 5 pm – 6 pm and then there is an evening show. (more about this later). I must point out that is no information regarding the show in the evening anywhere at the entrance or any other place in the entire premise. (remember this).
The grounds are well kept and very neat. There is not a long walk from the entrance to the ruin, and as you get your first glimpse of El Castillo, it captures every essence of your being with its majestic stature. The history of these ruins seeps through the stones and into your heart.
We spent a couple of hours moving from the huge temple, El Castillo, to the ball court, the outer temples the columns and sacrifice hole. There are so many guides and people, but it is so spacious that you won't feel claustrophobic. It is worth every cent.
We decided we wanted to see the evening show but as there was rain predicted for that evening we decided to come back the next evening and luckily we did because we had a storm of note – so much so that the electricity in the area of the hotel Dolores & Alba went out.
At 4.30pm the following day, we were waiting to purchase our tickets for the evening show. We had asked several people (tour guides and other officials) if this is where we could purchase the tickets for the show; they all confirmed in the positive. I even asked the cashier lady and received the same response. This time, however, you will pay $240mxn regardless of whether you are a citizen, resident or tourist. Also, when paying with a credit card, it is only one transaction and not two as with the day entrance fee – why? I cannot say and neither could the cashier.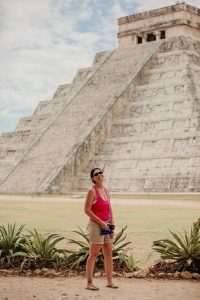 We took our blanket, sat on the grass or played games with my grandchild in front of the great and grandiose ruin as we waited for the time to pass. Fortunately, it was much cooler than the previous day's midday heat and far, far fewer people. The market stalls were all packing up and leaving. The lack of people was strange, and we asked a tour guide (again) if we had purchased the right tickets for the show and again we were assured we had. So we waited; the tourists were leaving, and the ground staff started setting out chairs for the show?
A man on a motorbike approached us and informed us that the site was closing and we had to leave. We told him we had bought the tickets for the show and were waiting for it.  And this is where the fun began.
Our tickets were merely to visit the ruins as we had done the previous day. The ticket office for the show had not yet opened, and you can apparently buy them online – difficult to find. Naturally, we objected and explained that we had been misrepresented regarding the tickets and asked to speak to management. We spoke to several people before finally speaking to a gentleman that had the authority to handle our situation. Please note that throughout our debacle we were treated well and with sympathy. Firstly we were told that if we wanted to see the show, we would have to buy tickets again. Luckily I still had the tickets to the previous day's visit, produced them and explained that this was the second time we had spent the money, and this was to see the show not to just to look at the ruins again.
It was explained to us that they only have 600 seats and once they were sold out that was it. Now as we discovered later that evening, there are a lot of people that drive a very long distance just to get told that there are no more seats! The grounds could easily fit a few thousand seats. We were told to wait until all the people had entered and were seated then they would give us extra chairs so we could watch the show and without paying any more money. This was a very long wait. It was past 9 pm by the time we were allowed to go to our seats. As I said, there were a lot of people that were being turned away due to a "full house" and did they complain and rightly so. Eventually, money passed through certain hands, and manual tickets were issued. Extra seats were added to the left side of the 600 seats, and the show began.
Minutes before the show started the full moon was rising just above the temple to the left of the El Castillo ruin. This was the highlight of the show believe me, for half an hour later the show was over. Hours of waiting and confusion for a half an hour of lights and images on a ruin that was far from spectacular or inspiring. (The audio is in Spanish of course, but you may purchase a device to listen in English.) I cannot tell you how disappointed my family and I were and as were so many of the visitors if their conversations and comments were anything to go by.
So after visiting Chichen Itza three times in two days here are the main facts for each entry;
Day entry;
Very hot – take head covering, sunblock and lots of water.
Plenty of tour guides for free (tips are optional of course)
Plenty of market stalls
Entrance fee is made in two transactions
Evening entry;
Ticket office opens at 5 pm
Very few people
Much cooler
No market stalls
No tour guides
Fee is one transaction
Entrance tickets are not for the show
Closes at 6 pm – you have less than an hour
The show;
Buy your tickets online if you can
Ticket office opens at about 6.30 pm – you will finally get to your seat at approximately 9 pm – it's a long wait
Don't bother going
In my opinion;
Go at 5 pm there are far fewer people, it is not nearly as hot, and you can buy the same things anywhere in the Yucatan area that is sold at the market stalls.
If you missed part one (click here) – Las Coloradas or Pink Lakes
Part two of our road trip (click here)  –  Ik Kil cenote, Hotel Dolores & Alba, and Valladolid.
I hope you have enjoyed the journey of our road trip. I look forward to the next one and of course, telling you all about it.
Professional photos courtesy of Mik 'n Drik Photography
Non-professional photos (not that great) by me, you can visit my Facebook page (click here and here)