SO HAPPY TO BE BACK ONLINE!!!
Thank you everyone for being so patient with me. I have a lot of catching up to do ..so here goes..
23rd November 2015
We moved to our new host. Right next door to Los Suenos. It's a gated community (In South Africa it's called complex housing or security housing) called Las Palmas.
We moved in as the previous Work-Awayers were moving out and although they had said they cleaned they didn't really. Ali and I spent the entire afternoon spring cleaning. But it is a gorgeous little cottage, or as they call it – a casita. We felt so cozy and comfortable immediately. The sound from the ocean is so loud its sometimes deafening and yet it is music to our ears.
We met Mary. What can I say except that she is the sweetest and loveliest lady I am privileged to now call my sister in Christ and my friend. Then Mary introduced us to Ed, who is another home owner here and guess what he is a Christian too. It amazes me how God puts us all together for His cause (more about that in another post!!)
This is the little cottage during spring cleaning; Ali made a lovely cross from bamboo and we also found some drift wood to make it more homey.
We have been working really hard, cleaning up and painting but it has been most enjoyable at the same time.
I know we are going to just love it here;
I did my first beach clean up today 24th November.. 3 1/2 hours of bending down, picking up, and standing up again. My goodness my body has no idea what has hit it. The beach looks lovely though!!
The beach is full of beautiful stones, the most exquisite colour combinations and designs as well as crystals, mostly white or purple.
25th November
Mary invited me to go with her to Manta. The big green and yellow bus picked us up just outside Las Palmas at 8am. The bus drive was 1hr and 15mins or thereabouts. Don't look at what the bus driver is doing or the road..it's scary!!!
We arrived at Manta's bus terminal and from there we walked to Mary's friends Jim and Jane's flat. While we were there we heard drums and it was a parade. The community were marching against crime and abuse. It was such a peaceful parade unlike in South Africa, no screaming, shouting or being totally stupid.
If you go to our Facebook site at https://www.facebook.com/AliandAileenMissions/ you can watch a video of this I took from my phone.
From Jim and Jane's place (such lovely people) we took a taxi.. my first ride in a taxi..Just throw your arm in the air and they appear like magic lol!! The public transport system everywhere in Ecuador works amazingly well and it is so very safe. The taxi driver name was Carlos, Raphael or Luis?? We went to the mall.
The first place we headed to was the food court. I had a Carl Jr's burger. Those of you who know me very well will know of my lack of tolerance toward fast foods. I was expecting to be throwing it all up by the time we left the mall – I did warn Mary to expect the worse – But my goodness what absolutely delicious burgers, I licked every juicy bit off my fingers too and the best part is that my stomach loved it too and kept it which means I can have another one, and another and another.
From the mall we got a taxi to Supermaxi, which is a store much like Pick and Pay or Checkers, then got another taxi back to the bus terminals. We arrived at the terminals and there is this very short Ecuadorian man (Ecuadorians are very short people but he was even shorter) and he remembered Mary from previous trips, so he rushed up to us, took our shopping bags and carried them onto the bus for us. How sweet and chivalrous.
Ali in the meantime worked like a boy at home ..shame.
On the 26th November was Ali's birthday and what better way to spend it (if the family can't be around) than to spend it with wonderful people. We invited Mary, Matthew and Michelle (www.andoffwewent.com), Michelle and his wife Sylvie (they are French Canadians). Ali made curry – unfortunately we couldn't find any full loaves of bread for Bunny Chows – so we had rice. We sat outside in warm fresh air and shared stories of our lives, our countries and all things interesting.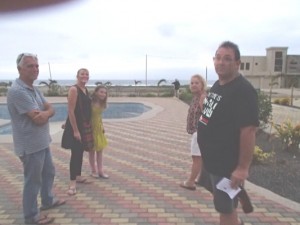 Oh yes I nearly forgot to mention this – I made a red velvet cake, yes I did!! I burnt it a little but it still tasted yummy and I can kick myself for not taking a photo of it. The men fought over the last few pieces..yay me!!
For individual photos and many more not posted here please visit our Facebook page; https://www.facebook.com/AliandAileenMissions/
Next post – Puerto Lopez and Pan de Yuca…..