Another visit on a Carnival cruise ship, on this occasion it was the Carnival Triumph.
The specs for Carnival Triumph are;
Gross Tonnage – 101,509
Length in Feet – 893
Guest Capacity – 2754
Onboard Crew – 1100
Carnival Triumph offers cruises for 2 – 5 days in the Caribbean departing from New Orleans.
Every Carnival ship has a theme, Triumph's theme is inspired by cities from all four corners of the world; Vienna, London, Paris, Hollywood, Oxford, New Orleans, and Tokyo to name a few.
I could barely walk off the ship after indulging in a vast variety of food dishes. Guy Fieri's burgers, Tacos, burritos, pizza, plenty of great salads, and delicious meats are all freely available. The best part no doubt is the cakes and desserts; the best by far is the Tiramisu cheesecake – you have to taste it to believe it.
There are two formal dining rooms, the London and Paris dining rooms that are only open when at sea and never when the shipped is in port.
An arcade cramped with games and entertainment for children and not only a full theatre for adults to enjoy live shows but many well stocked bars and naturally a casino.
There is more than enough entertainment to go around other than lazing by the poolside.
Carnival has introduced a WIFI packacked that not only keeps you connected but has several apps that keep you up to date with cruise accounts etc.
Be assured Carnival Triumph has a muster station and plenty of lifeboats.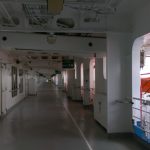 This time, I got to see the crew quarters. They are small, no space to swing a cat. I viewed an engineer's room which is bigger than most. But as they say "that is ship life."
Looking for a great holiday, take a cruise you will not regret it.
Follow our travels and for more photos of Carnival Triumph, and much more please join our Facebook page at https://www.facebook.com/AliandAileenMissions/
Save