Two weeks ago my daughter Nadine took me to the chocolate factory, Chocolates Kaokao, here on our lovely Cozumel Island. I was very reluctant at first since I was still so raw from the death of my beloved Ali. But I must admit it was a fabulous distraction, and I thoroughly enjoyed the tour and the company.
We arrived and were greeted with huge friendly smiles and a lot of warmth. Our tour guide Miguel was perfect; full of energy, jokes and a wad of information.
He first took us to a room that hosted the history of the Cocao bean. Do you know that it was monkeys that discovered the bean? If you didn't, well now you do!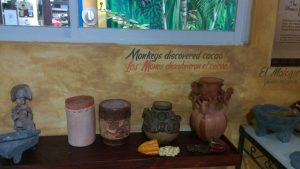 A couple joined our group, and we went over to the room where the fun began – making the chocolate.
While Miguel demonstrated the original and old fashion way of grinding the Cocao beans, we got to do it the easy way with a grinder.
We crushed our beans added sugar and blended the sugar into the grounded Cocao gently with our fingers.
While we did that, Miguel mixed hot water, vanilla, and honey to his grounded beans and served us delicious hot chocolate.
When we were finished blending the Cocao and sugar, we divided the mixture into even portions and rolled the portions into balls. Then we placed the ball into a special fitting after adding wrapping paper. We closed and sealed the ball with the company logo and viola we had a homemade chocolate to take home.
After our 'hard work' at making chocolate, we were treated to some tasting. The blends of so many different flavors left my taste buds dancing in delight. I could not decide which was my favorite flavor, perhaps they all were.
What an enjoyable way to spend a few hours on this delicious Island called Cozumel. Do yourself a favor and visit Chocolates KaoKao, Cozumel. You can book a tour on their Facebook page here.
For more photos, please visit my Facebook page;
https://www.facebook.com/pg/AliandAileenMissions/photos/?tab=album&album_id=490784011282099
Save
Save