Today 19th November is the 106th anniversary of the Mexican revolution .. so they celebrate (as they love to do) and we were treated to a fabulous Parade on the malecon of Cozumel Island. We do love this place, there is always something to make you smile. In this blog I have added a lot more photos than usual because lets face it; for an event such as this photo speak a thousand words.
Schools, from the littlest toddlers to the senior learners, bragging their sporting talents, walked with great enthusiam. Cycling, boxing, football, volleyball, gymnastics, fishing and scuba diving were just a few to mention.
Many pyramids were built and not one failed.
The technology departments participated.
Social clubs, such as Zumba and the gyms also took part.
And then of course we were delighted to watch tradional dancers in their beautiful colorful costumes.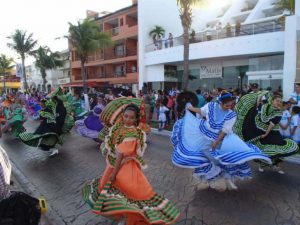 Not to be outdone were the cadet bands that played marvelously and with every ounce of pride.
The fireman, and police made their appearance and we were just lucky enough to catch the police make a pyramid with the bottom people still on their bikes (I have a video of it here).
The last of the parade were the beautiful creatures God has blessed us with – the horses.
I have to mention (and it is done with loads of respect) the method used to get the music in the parade. A car or van is loaded with the biggest possible speakers and fitted with a generator to keep them blasting out the tunes. Absolute genius.
I love Cozumel Island, I love the people and I love its continuous delivery of fine entertainment.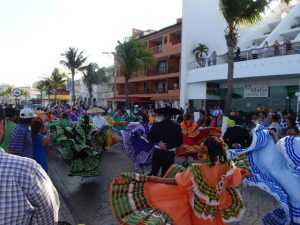 Viva Mexico
I have so many more photos and videos I'm sure you would love to browse through. Go to this link