While the popular sport/adventure activities such as diving and snorkeling on Cozumel Island get widely advertised, there is a sport called Motocross that happens here too. This weekend Cozumel Motocross hosted the Caribbean Cup for the first time at the Motopark venue. The venue is tucked away in a perfect place for the lovely sound of motorbike engines that would otherwise irritate city folk.

Heavy rainfall on Saturday ensured a good track for Sunday's main event. Sunday served up perfect weather for a wonderful day of good racing. Races for various categories including vets, women, novice, intermediate and experts filled the program for the day.

A day of racing passed with few hick-ups, exciting races, high jumps, bumps, sharp corners and flying dirt that enthralled the small crowd of supporters.
Look for all the winners on the Motopark Facebook page https://www.facebook.com/motoparkcozumel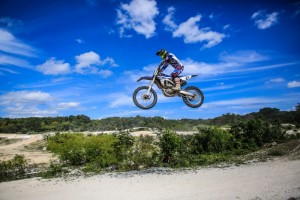 On a negative point, there was a noticeable lack of vendors selling food and beverages and the usual running commentary over a PA system that, at events such as these, would be a given formality.
For hosting the event for the first time, I say well done to the organizers for making the effort. I truly hope in the future far more exposure and advertising will promote this event and in return, the interest of the people on the Island will grow rapidly. It is a wonderful sport that the whole family can watch and enjoy together.
All photos by Oleksandr Biezmienov – Mik n Drik Photography
These and so many more photos are on our Facebook page, please follows us;