We arrived in Puerto Lopez at the Oceanic Hotel and welcomed by Junior, the owner, in Spanish
and a whole lot of warmth. Ali and I are the only ones here that are still beginners in Spanish which means that most of the times we need a translator – thank you to lovely Erin for always so willingly tackling the task.

It is a beautiful hotel; Junior bought it eleven months ago in a run down, neglected
state, For the first time it is fully booked from the 30th December to the 2nd January. There are twelve Workawayers here; Argentineans, Spanish, Americans, French Canadians and us Saffas. Every day after the guests have been served their lunch all the Workawayers and the employed staff have lunch together with Junior and Paula.Lunch is not just a sandwich or two, it is a huge meal and all we want to do after we eat is sleep.
On the day we arrived Junior was completely stressed out as he needed to fetch his wife, Paula, from the bus terminal later that evening. She arrived from Guayaquil, a three hour bus ride and she is heavily pregnant with complications. Naturally on our Workaway profile it is mentioned that Ali is a mechanic and Junior did not lose a moment to get Ali to check out his Bakkie (van). Not too much later Ali fixed the problem – poor Junior he almost kissed Ali. But I have to share this little story with you; to open the bonnet you need to take the pliers and pull the bonnet cable and after several attempts Ali called me to help him. I pulled on the cable while he tried to open the bonnet. We tried so many ways and nothing worked, eventually we called Junior and asked him to enlighten us. He laughed; he pulled the cable with the pliers, went to the front of the car and banged the bonnet three times and poof; the bonnet popped open. Only in Ecuador!
We've been kept busy fixing things, mostly leaking toilets. There is one of the family rooms that had an awful stench to it, they said it was bats and Junior, again, has been stressing as it is booked out for guests; Ali to the rescue – again. He unblocked the shower and toilet drains amongst other things and all is well. The smell no one could tolerate was from wet dog hair lying on the deck floor!
They are building a malecon (promenade) along the beach front in Puerto Lopez as I
have mentioned before. All this construction work has almost completely blocked off the hotel from the main roads. Ali told Junior he'd make a sign to put by the freeway to indicate the detour roads – again Junior nearly kissed him.
On Christmas Eve we all made a traditional dish from our country, we made Briyani.
   We figured that since there is the highest concentration of Indians living in Durban outside of India it is a traditional dish. It was well received by everyone, but the best was Ali's salsa that he made. In Bahia de Caraquez, at the Hotel Bahia B&B he got some devil chilies and used them to make the salsa. Many people had burnt lips or tongues from trying it out – it was awfully funny to watch. Only one person, Alan from America eats it with Ali; he loves it.
We had a lovely evening especially when Paula brought out the hymn books and we sang all our favourites in Spanish – very fancy Spanish like "thee" and "thou" in English.

As of today 26th December we have started to work five hour shifts instead of everyone working in the mornings – this is to accommodate the crazy New Year period. Ali and I prefer to do physical handyman type work or gardening but we must do what we must do. Fortunately we will not have to deal with guests directly as our Spanish is not good enough yet.  Talking about gardening, Ali found this exquisite rose tree, it has both white and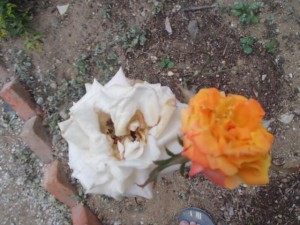 orange roses growing on it; it is too pretty and I came across this gorgeous little green fellow creeping about.
When ever we sit on the front porch, besides being spoilt by the view of the ocean, we are treated to the daily life of these two little birds nesting in the lamp pole, so cute.
All God's creations are simply magnificent.
Next blog is .. "Oh Pooh Pooh"
Please visit our Facebook page https://www.facebook.com/AliandAileenMissions/ and you will find so many interesting photos and videos we want to share with you.
God bless