We have been to some lovely and interesting places on Cozumel Island, but first I want to tell you about a little tour we did at the University of Quintana Roo. The English department has a project to help the students practice their conversational English. A guided walking tour of the University and at certain points or sections a student will tell you (the visitor) a few facts about their purpose for majoring in English and the University. We were thrilled to be going to start off with and from the second we met the professors and the students to the time we left we thoroughly enjoyed every minute; the tour and the company. The students speak English very well and even though they were nervous they were confident speaking to native English speakers. We are very much looking forward to working with these fabulous and enthusiastic students a lot more in the future.
If you are interested in a tour (I hope you will be), please contact Manuel Becerra Polanco +52 987 871 2602 or email at mbecerra@uqroo.edu.mx http://www.uqroo.mx/

On valentine's day, Ali and I, Nadine and Sasha went to Kelly's Pub and kissed a dog! The Humane Society held a Smooches for Pooches campaign to raise funds for abandoned animals. You give a donation, and you get to kiss a dog, what an awesome concept and the dogs were so friendly and excited to get so much attention from the humans. It was so difficult to choose one, so I kissed them all, but I must say the black and white pooch (in the photo with me) stole a little of my heart as he reminded me so much of our Chico still in South Africa and we miss him so much. It is a wonderful cause so if you see or hear, it advertised, please support them. https://www.facebook.com/groups/966604993363999/?fref=ts

If you near the ferry entrance say hi to the Pelican birds, they are always hanging around for food or to take a rest from their heavy daily schedules or to simply groom themselves. You can get near to them but don't be too brave and attempt to touch them you might just land up minus a finger or two. They are such great poses for photographs too so snap away.

With the arrival of our newest grandchild imminent, our big adventures are on hold, but that does not mean we cannot explore the Island. We hired a car for a day that chugged around on dirty spark plugs or dirty filters (there is no check list etc. when hiring a car), but it only added to the fun of the day. It is not a big Island so to drive around the entire Island in an hour or so without stopping is very possible. But who wants to do that?

We drove out of the main city area of tall first world buildings and houses and very soon we were driving along a coastline with different incredible colours of blue.
On the other side of the road is all nature reserve of swamps, mangroves and various kinds of vegetation, oh yes, and a crocodile. It is fabulous to drive through this area and not see a concrete jungle. There are one or two restaurants and bars but built in the local style – wood and thatch.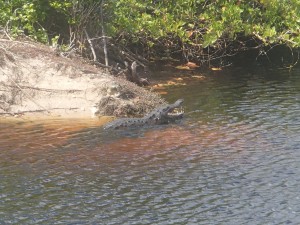 Our first stop was Coconut Beach, a popular beach that has a large sandy beach and many rock pools, a feast of little fishes live in the rock pools. Unfortunately even though it was a sunny day they wind was chilly coming off the ocean that kept us from taking a dip in the ocean. A warning, though, if you do swim in this area there is a very strong current however it is a lovely beach.
The owner of the bull we remembered seeing at the Carnival a week ago had the bull on the side of the road; people stopped their cars and got out to sit on it and have their picture taken. I don't know what the charges were for this, but I can imagine it was a few dollars. Looking up from the beach you could just see the head of the bull, and naturally I had to take a few photos.

We stopped at several more beach spots; we found one that did not have rock pools, and this too is deemed a very popular spot for the tourists. A large sand bank meant the swimmers were able to go rather far in the ocean (and sideways thanks to the current!).
A man walked around holding an Iguana and if you wanted you could hold him, I, of course, wanted to but knew that he would charge me a good few dollars for that, so I took a photo of him and the Iguana instead. The next time I go there, I will find out more and write about this particular Iguana.

There are many diving spots along the coast which are a huge attraction for the tourists coming to the Island from the ships every day. An event we will get to do soon.
There are a few Mayan ruins on the Island, there is a fee to view the biggest one, and we will get to that another day instead we went to a place called El Cedral, a little tourist village made up around a small Mayan ruin. The Mayan ruin was a prayer temple and although entering it is not permissible you can look inside through a mesh door. Inside is simply two divisions separated by an opening, not much to it but you can feel the ancient time and history when you look in.

Next to the Mayan ruin is a chapel, the contrast of ancient and new standing next to each other is blinding. In truth, my opinion is that the chapel ought to be somewhere else, and the Mayan ruin deservedly should stand alone. But that is my opinion.
The rest of the little village is curio shops all selling pretty much the same thing but on the plus side the sellers do speak English, and you can bargain for prices.

If you are up to horse trail you can do that from here, that's a do-able for another day too.
Too soon enough though we were back in the city area and our scenic drive came to an end – for now. There are plenty of adventurous things to do on this lovely and peaceful Island of which we intend to take advantage of but for now; we wait patiently for our darling grandchild to arrive.
Oh yes! In my first blog about Cozumel Island I mentioned the incredible amount of VW Beatles here; well I knew that at some point I would find Herbie and I did! I took a photo for evidence! I have added a lot more Beatle findings to our Facebook album too it is very enjoyable to look through.

Remember to follow our Facebook page to see all the photos https://www.facebook.com/AliandAileenMissions/
Some of these photos are taken by the very talented Mik 'n Drik photography https://www.facebook.com/Mik-n-Drik-Photography-286501064711643/?ref=ts&fref=ts – Like their page too, please.
Please keep our Nadine and her baby in your prayers for a safe and healthy delivery anytime soon.
God bless