Puerto Escondido
Recently I was blessed to have the opportunity to travel to Puerto Escondido, Mexico. I went to a Christian Surfers Mexico conference (read here).
I flew from Cancun to Huatulco via Mexico City, and since I arrived late in the afternoon, I decided to take a taxi (that had every warning light possible flashing on his dashboard) to Escondido – 94kms from Huatulco. The drive is through a mountainous pass with many tight corners and bends and for the most part a dual way road. My taxi driver did some serious low flying at 120kms/hr – the adventure had begun! I could've taken the bus but it was getting dark, and I did not want to be then standing in the road.  I could have flown to Escondido, but with a very long layover at Mexico City, I would've arrived in Escondido the same time.
I thought for a moment I had been passed through a zip code; the landscape, buildings, roads, everything looked exactly like Ecuador. Did Scotty beam me up?
Huatulco airport as got to be one the cutest airports in the world, with its thatched roof and unique design. The Huatulco sign has love-locks attached to it; you can buy the lock, have it engraved with your and your partner's names and lock it onto the sign. Like I said – the cutest airport!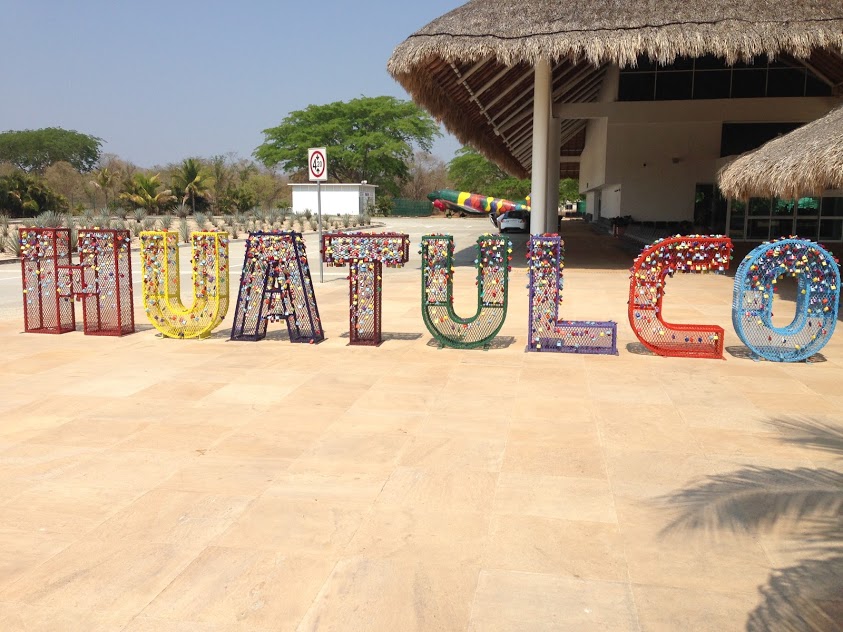 Puerto Escondido is a small town designed for fishing and surfing. Everything revolves around these two activities, and it is no wonder with the great waves, especially at La Punta and Zicatela beaches. The main roads are tarred with asphalt, but all other road are dirt roads with heavy terrain and potholes; something like off-road adventure driving. The roads, although still dirt roads, and housing along and near to the beach are in better condition.
The town is small and similar to other small towns in Mexico. One road in the main tourist area is closed at night, and all the stalls are brought out into the street in market fashion. The vibe is excellent, lively, safe, and very touristy.
We took a 2.5hr drive east and went to a remote surfer's beach 'Playa Barra de la Cruz.' Wow, what a stunning place and of course the surfers were in their element; definitely worth the drive. We got there early enough to see the sunrise over the ocean. This was exceptional special for me as I have not seen the sunrise over the ocean since growing up in my hometown, Amanzimtoti, South Africa. I've lived in places where it sets over the ocean for so long.
If surfing is your passion and you're in search of good waves, amazing people and a chilled holiday then Puerto Escondido is that place. While you are there try out their traditional Oaxaca food, in particular the Tlayudas; your taste buds will thank you.
You are welcome to view more photos on my Facebook page https://www.facebook.com/aileen.friedmannaude/media_set?set=a.10161585261050262&type=3