In August 2018 I visited my daughter in Seoul, South Korea. Not knowing what to expect, obviously we have discussed the city and the country a lot during conversations, but I was still very pleasantly surprised.
South Korea is not a big country; you can drive from the North to the South in five hours, but it is packed with history and interesting places to visit.
Firstly let me talk about Seoul, and then I will mention a few of the fabulous places I visited that are still very much imprinted in my mind.
Living in Seoul;
I have never seen so many high rise buildings in my life, for miles and miles they are packed one against the other and with more being built as we speak. There are too many people for the city, and hence they all live in apartments; in Seoul, you rarely see a free-standing house. However, the river that flows from the ocean throughout Seoul is lined with walkways and parks for families to still enjoy the outdoors.
Everything is about convenience in Seoul, people work very long hours and therefore convenience to make a little easier is important. Public transport is excellent and efficient. You can buy a card from a convenience store, put whatever value you want onto it and use this card for all bus and train transport or as a lot of people do they use an app on their phones instead of a card. The public transport is punctual, clean, and announcements are made in Korean and then in English. I cannot express the public transport system enough; it is that efficient. Even the bicycle hire is run smoothly and efficiently. All road and information signage are in Korean and English, and most people speak a fair amount of English.
For the convenience of the people, at all major intersections, a large umbrella is situated for shade while people have to stand waiting for the changing traffic lights. At the entrance of many stores is what looks like a dirt bin, but in fact, it is an umbrella bag dispenser. You put your umbrella in the bin and pull it out sideways, and your wet umbrella is inside the bag preventing the water from dripping on the floors in the store preventing a danger risk. At stores that do not have this bag dispenser, there will be a basket or plastic container of some sort to put your umbrella in. It is so safe in South Korea that your umbrella will still be there when you leave.
The dollar is not accepted, but the country is 90% cashless, even the smallest little café will have a credit card or scan facilities. Most people simply give their phone to the cashier, it gets scanned, and the funds are immediately deducted from your bank account. The technology in South Korea is probably the best in the world!
Every shop whether a major store, coffee shop or a family grocer has free WiFi, even the Laundromats are connected. The username and passwords signs will be on the walls or near the check out in both Korean and English.
I love coffee shops, here in Seoul I was in my element as there must be about five on every street, especially in the suburb or residential areas. You can buy a cup of coffee and sit for hours with your laptop connected to the WiFi. There is plenty of plugs point for this purpose since students frequent these shops on a daily basis.
The city is very clean along the main inner city roads with a lot of greenery. Big oaks, maples, pine, and Ginkgo trees line the streets and house the Cicada beetle. There are thousands of these beetles, and the noise from their beating wings cannot go unnoticed.
One thing to be very aware and cautious of is the way people drive in South Korea – it's absolutely nerve wrecking. To cut across four lanes regardless of oncoming cars is the norm. Parking so that a dual lane becomes a single lane is a natural phenomenon in the residential areas. Parking on a corner is acceptable too – strange but true.
To view more photos of Seoul visit here
Shopping;
Seoul is a shopper's paradise; I was blown away at the availability of anything and everything, and so much of it all, it's hard to comprehend. Myeongdong and Namdaemun are compacted with street markets that stretch for miles. The markets intertwine alleyways with the main streets; it is so easy to get lost.  Also, there is Dongdaemun and Gangnam; cities that have tall buildings comprising of floor above floors of shopping stalls. We went to one that had eight floors of haberdashery – from zips and buttons to the most beautiful material imaginable and at such fair prices. And as if that is not enough then you get the Goto mall at the Gangnam terminal, this is all underground shopping that goes on for miles. For all your electronic needs and requirements there is the Yongin Ipark electronic mall. 
Honestly, you will find whatever it is you are looking for as long as you have the time to shop. I found beads I could normally only find online in a Dongdaemun building specifically for crafting accessories. Yep, as you can imagine, I have never seen so many beads in one square mile.
PS!! The city Gangnam is where the song Gangnam style comes from.
Visible from anywhere in Seoul is the Namsan Tower, standing on the Namsan Mountain at 480m above sea level. If hiking is your thing, there are plenty of hiking trails up the mountain, or you can access the tower via the cable car. It is rather expensive as are the shops and restaurants in the tower, but you do get a spectacular view of Seoul.
Food;
I was expecting noodles, and then some but the Korean food is tasty and certainly unusual for a westerner's taste buds. They love their food spicy, so always ask to make sure yours will not be if you are like me and cannot eat spicy food. My first Korean dish to sample was Dak Galbi, and I relished it. A typical Korean restaurant will have a gas burner in the middle of the table where your meal is cooked in front of you. Dak Galbi is a combination of chicken, cabbage and a few other vegetables in a tomato-based sauce. The ingredients are mixed together and when cooked grated cheese is placed on top and the pan covered for a few minutes. When served it is delicious and filling.
When it rains in Korea, it is tradition to have Pajeon and Makkoli. Pajeon is commonly known as pancakes in Korea and is a batter made of eggs, wheat flour, rice flour, scallions and a meat or seafood of your choice. The ingredients are fried together in a flat pan. Makkoli is a milky, off-white rice wine.  A meal one could easily get used to.
Do not be afraid to eat the street food; it is fresh and tasty. We had chicken pieces on a stick with cheese, tomato and mustard sauce spread over, and it was most enjoyable.
For a light and refreshing meal, you have to have flaked ice-cream.  We selected the melon – the fruit of the melon is scraped out and rolled into little balls. The inside of the melon shell is filled with flaked ice-cream and the melon balls placed on top. Of course, we did not leave a morsel savoring every bite.
There is a restaurant named QooQoo; if you are ever in South Korea, you will not be sorry eating here. It is an all you can eat sushi restaurant, but not only sushi; there is a variety of red and white meats, various seafood's, salads, vegetables, soups, and of course desserts. Even the fresh juices, coffee, tea, and hot chocolate are bottomless. During peak hours you may only stay for an hour and a half, but truly it is more than enough time to eat so much your tummy wants to burst. We went during and out of peak times, and the food was equally good. Just to get through the variety of sushi can take up the time restriction in peak hours; so many and so very good. The price is $22 per person, fabulous value for your money.
Every city has its own traditional food; in Gyeongju, it's traditional bread called Hwangnam-ppang. It is a small pastry with a filling of red bean paste, and I cannot say that I enjoyed it very much. Another city we went to was Jeonju, and here you will have the traditional pizza bun; it is as it is called a pizza in a burger bun and it is very yummy.
Religion;
I am happy to say the Jesus is proclaimed vastly in South Korea. There are churches everywhere, not only free-standing churches but some buildings that one would automatically presume is an office complex, is in fact, a church that occupies every floor. Of course, Buddhism is the countries religion of choice, but I met more Christians than Buddhists – praise the Lord.
Historical sites;
I must say I am thoroughly impressed with South Korea's will to keep the old with the new. Palaces, fortresses, tombs, and temples are being restored, and even remnants of the old football stadium in the middle of the new modern city have been kept as a reminder of their history.
In Seoul city center stands the South Gate, It was originally built in 1939. This gate, the Gyeongbokgung Palace, and the Hanyangdoseong (Seoul city wall) were built along four mountains surrounding Seoul. Sungnyemun means "The gate of exalted ceremonies."
In February 2008 an arson attack caused severe damage to the structure of the South Gate destroying the entire second floor. Via restoration efforts over a period of five years, the structure has been restored to its former glory and original form.
What a fabulous fun day. You will find plenty shops renting the traditional Hanbok outfits for men and women. They are beautiful, and it is so hard to choose from the varieties of dresses and the sleeved tops. If you rent an outfit for $27 you can get into the palace for free, believe me, it is worth it but be warned if it's a hot day take lots of water as you get very hot in the clothing. The admission fee if you do not rent is $30.
The palace is deceptively huge with several buildings and living quarters; the pond was closed for renovations when we went, unfortunately.  Be prepared for a lot of walking.
The changing of the guard in the square inside the gate takes place at 10.00 and 14.00, outside the gates is at 11.00 and 13.00. Both performances are very interesting and having your photo taken is allowed.
As with the South Gate it was built in 1395, built for the Joseon Dynasty, the name Gyeongbokgung means "brilliance and fortune." In 1592, the palace was destroyed by fire by a Japanese army and lay in ruins for 270 years before the restoration project was launched. Under Japanese occupation, the palace suffered great damages, over 90%, between 1910 – 1945. In 1990 the restoration of the palace began once more and the Japanese General Building which stood in the palace grounds for 70 years was demolished.
It pleases my heart so that this country has made such great efforts to restore this magnificent palace. Walking around in the Hanbok dresses presses you back into a time when I cannot imagine how hot they got wearing them everyday lol! Seriously though in the dresses you truly take a walk back in time.
To view more photos of the Gyeongbokgung Palace visit here.
Yes, that is the correct title! Well, I never! In Suwon, not too far outside Seoul, you will find the Haewoojae Toilet Museum. Haewoojae, otherwise known as Mr. Toilet was born in a toilet and was given the nickname by the press during his passionate toilet culture movement. He became mayor of Suwon and had his house designed in the shape of a toilet.
The most amusing is the various ways of how toilets and wiping techniques were used throughout the history of Korea; I'm so grateful to have been born when good flushing toilets were already invented.
To view more photos of The Toilet Museum visit here
A sad and horrible reminder of the atrocities and horrors of humanity in the world. The tour through the prison is very well organized and directed, taking you through the prison cells, solitary confinement cells, underground torture chamber, warder office, labor buildings, execution building, exercise facility, women's prison, and the cookhouse.
Despite the severe suffering Korean's have suffered under so many other countries they have achieved their independence and democracy. This prison is a reminder of their struggle to be a free nation.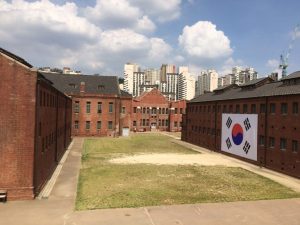 To view more photos of the Seodaemun Prison visit here
If you're into adventure sports, South Korea has a few to offer. We elected to go paragliding, it cost about $80, and if you want the video and photos, it is $100.
On the day we went there was not much wind, and when it was my turn, it took several attempts before we actually took off. I am convinced that my pilot was not that experienced as we missed the trees by centimeters; adrenalin rush of note!
Once we were gliding it was a wonderful experience; I am always in awe of the sense of peace I feel when I am flying in the open air.
The flight is about 10 minutes and is not as high as I expected it would be. All in all, it is an enjoyable experience and something I can tick off my bucket list.
To view more photos of paragliding visit here
We went on a road trip down south to Gyeongju and Jeonju, not far out of Seoul and it's endless apartment buildings the green hills come into view and what a pleasure that is. Hills and nature's luscious greenery, rice paddies and houses are a beautiful sight as the miles go by. Among the hills are so many tombs encasing ancestors from decades ago, this was the initiation of where the real history of South Korea lies.
Booking into the Gyeongju Inn, a very affordable and pleasant guest house, we were situated within walking distance to the main historical sites and the Lotus field.
To mention all the temples, tombs and fortresses we visited in the space of 3 days will be too much so I will mention those that touched me the most. Gyeongju is inundated with tombs and fortresses, so many for the eye to see.
To view more photos of Gyeongju visit here
The Bulguksa Temple is built on the slopes of Mount Toham and is listed on the UNESCO World Heritage list. This temple's original building was built as early as 751. After being burned down, it was reconstructed and additional buildings added from 1604. After World War II and the Korean War major reconstruction was done in 1966 to 1973 and now we are privileged to be able to visit this exquisite temple.
As you walk around the temple's beautiful grounds, you can feel the peace and tranquillity.
To view more photos of The Bulguksa Temple visit here
Cheomseongdae Observatory was built during 632 and 647. It is the oldest astronomical observatory in East Asia; 5.17 meters in diameter and 9.4 meters high. The cylindrical body of the structure is made of 365 pieces of cut granite symbolizes the days of the year. The hole or window separates the structure into 12 layers of stone above and below and also the 12 stones of the stylobate  – symbolizing the 12 months of the year.
The shape and appearance have not changed for the 1300 year existence. To maintain the preservation of the structure a system has been installed and measures its existence (cracks and structural displacements and movement of the foundation stones) every hour.
Donggung Palace and Wolji Pond;
Otherwise known as Anapji it was constructed in 674 by King Munmu is near the Wolseong Palace. It has 3 small islands.
The pond was dredged and rebuilt in 1974, and from March 1975 to December 1986 numerous relics were excavated. During the excavation, the 5 buildings were realized to have stood on the pond's edges as well as waterways and systems.
Visit this site late in the afternoon, and you can get to see the renovated buildings and read its history then find a spot to sit and wait until the sun sets. The lights on the walls of the pond come on, and you are treated to a surreal experience. We were so fortunate to have a good spot to get the full view of all the buildings and were blessed with perfect evening weather.
It's a very magical, mysterious and mystical experience.
To view more photos of Donggung Palace and Wolji Pond visit here
Gyochon Traditional Village and Woljeong Bridge;
My favorite part of this traditional village although the village is spectacular was the Woljeong Bridge. Built approximately in 760, but like most historical sites it was destroyed, and all that remained was the stonework foundations. After many years of restoration, the bridge is completely rebuilt and is now open to the public. When we were there it was still closed and opened 2 weeks after we left, I would have loved to have taken a stroll over this spectacular bridge.
The village is large and restyled in the traditional manner of a Hanock village, very quaint.
In its glory days, this pavilion was one of the most spectacular royal pavilions of its time. It was in the shape of abalone and is slightly sloped to encourage the water flow, all that remains now is this water feature made of granite stone.
The king would host lavish parties at the Poseokjeong and cups filled with wine floated through the watercourse in the stone channel. When the cup came to a standstill whoever was in front of it had to drink the contents and recite a poem.
Many banquets were held with royalty and noblemen attending. Throughout the evening a bountiful of alcohol was consumed with much chatting and poetry recital challenges. There was a game played that went something like this;
While cups of wine floated, a guest started the poetry challenge and then the next guest would have to quote the second line of the poem before the cup filled with wine reached him. The various curves and corners changed the speed of the cup. If the cup reached the person before he could quote his line he had to drink the wine and continue to do so until he finished the required line from the poem.
King Gyeong was killed at this pavilion during one such evening of "fun."
The name means "Sky Horse Tomb," believed to originate in the fifth or sixth century and was excavated in 1973.  It belongs to an unknown king. The birch bark saddle flap had a white horse engraved on it. This horse is called Cheonma (Korean Flying Horse), it has 8 legs with wings on its feet.  The other side of the saddle flaps, horsemen and the Phoenix are engraved.
11,500 artifacts were recovered in the tomb, among these was a gold crown and a gold girdle decorated with Jade comma-shaped beads; an indication of royalty. Gold bracelets, gold rings were also found and also many saddles. Pottery, bronze objects and a 98cm sword.
This is the only tomb that is open to the public, only the contents have been removed and preserved in the museum, but it is fabulous to get a visual of what the tombs look like from the inside.
Yi Gap Yong, in 1885 and at 25-years-old journeyed to meditate and rediscover himself in the Maisan (Horse Ear) mountain. He remained there for over 30 years building 120 conical stone pagodas without any use of mortar or help from anyone else. Today there are still 80 remaining.
A statue of Yi Gap Yong is erected at the foot of the temple – the site where all these pagodas are located became a Buddhist temple many years after he started.
It is truly difficult to describe this temple other than to state that it is a phenomenon.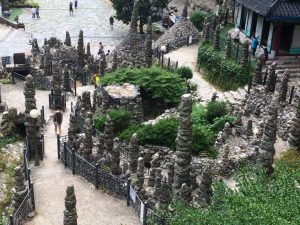 To view more of the Tapsa Pagoda Temple photos visit here
Gayasan Haein Temple and Tripitaka Koreana;
I have left this one till the last as it is my all time favorite and what I have been waiting to see for such a long time – not the temple but the Tripitaka Koreana and I was not disappointed in the least.
Originally built in 802 it was burned down (like many others) in 1817 and rebuilt in 1818.
The temple and Tripitaka Koreana were made a UNESCO World Heritage site in 1995, and deservedly so
During the Korean war, in September 1951, about 1000 North Korean soldiers engaged in guerrilla warfare in the Haeinsa area. Four bombers from the UN forces were ordered to bomb Haeinsa. Kim Young Hwan, a leader of the pilots, was concerned about the Haeinsa Tripitaka Koreana and refused to drop the bombs. When he first returned to his command, he was taken to task with impending serious actions but later when it was discovered what he had indeed saved he became a hero and of course a hero of South Korea.
At the very top of Haeinsa is one of the largest wooden storage facilities in the world – halls of the Tripiṭaka Koreana (Korean Buddhist scriptures) woodblocks, and it is known as the Janggyeong Panjeon complex.
Remarkably, they were unharmed in the 1818 fire that burned most of the temple complex down.  It is the oldest part of the temple and houses the 81,258 wooden printing blocks from the Tripiṭaka Koreana. Janggyeong Panjeon is made up of four halls arranged in a rectangle; The Beopbojeon (Hall of Dharma), the northern hall, Sudara-jang (Hall of Sutras), the southern hall and two small halls on the east and west.
"Ingenious preservation techniques were utilized to preserve the wooden printing blocks. Janggyeong Panjeon faces southwest to avoid damp southeasterly winds from the valley below and is blocked from the cold north wind by mountain peaks. Different sized windows on the north and south sides of both main halls are used for ventilation; The windows were installed in every hall to maximize ventilation and regulate temperature. The clay floors were filled with charcoal, calcium oxide, salt, lime, and sand, which reduce humidity when it rains by absorbing excess moisture which is then retained during the dry winter months. The roof is also made with clay, and the bracketing and wood rafters prevent sudden changes in temperature. Additionally, no part of the complex is exposed to the sun. Animals, insects, and birds avoid the complex, but the reason for this is unknown." Wikipedia
A modern storage building was designed and erected at the base of the mountain using modern preservation techniques. However, when they moved a few test woodblocks they developed mildew, and the operation was immediately canceled, and the remaining woodblocks stayed in the original home undisturbed and still to this day unchanged and undamaged.
I cannot explain in words the feeling of seeing with my own eyes these printing blocks that have withstood all the elements the world and nature have thrown at them.
We were incredibly fortunate to be there with so few tourists and managed to get some great photos with no-one else in the shot.
To view more of the Haeinsa and Tripitaka Koreana photos view here
*****
To add to the fun of visiting these historical sites, you can do a stamp tour; this is a booklet that has selected historical sites mentioned (16 in all), and when you've visited that site you stamp your booklet. You cannot cheat because each site has a specific stamp. We got 12 of the 16 stamps.
Overall we visited 26 tombs, temples, fortress and palaces and we still had not seen them all. I am so grateful for this journey and to be able to discover the history of this interesting country.
Jeonju means "Perfect region," we stayed in the traditional Hanock village for which it is famous and booked into a traditional Hanock accommodation.  The village is made up of over 800 traditional houses that are called "Hanock." As much as it is a traditional village, it is geared for tourist and somehow loses that authenticity in my opinion.
Typical Hanock accommodation is similar to the Japanese styled homes you see in the movies; you sleep on a mat on the floor in a room with little or no furnishings, and paper windows.
You can rent the traditional Hanbok outfits and stroll around the town, appreciating the ambiance and the admiration from onlookers.
To view more photos of the Jeonju Hanock Village visit here
An opportunity we sadly missed was to visit the Natural Science Museum; it was a Monday and they are closed on a Monday, and unfortunately, we were on our way back to Seoul so staying another day was not possible. The reason why I mention this is that there are two 300-year-old mummies in the museum that will be worth the visit.
*****
I spent 6 wonderful weeks in South Korea, I experienced their culture, their history and realized that they are an extremely proud nation and so they should be.
If you have an opportunity to visit this country, don't hesitate; you will not be sorry.