I asked a few weeks ago for your opinions on a new cover for Changes From a Sunset (Read here).
Well you certainly gave me a lot to think about and a lot of great ideas – so I do say "Thank you" your response is hugely appreciated.
So this was the old cover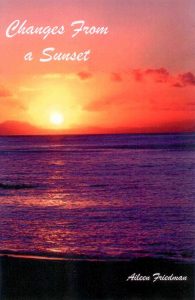 And now here without any further ado is the NEW AND IMPROVED cover  (drumroll inserted)
I have still kept the original sunset photo which my daughter Nadine took and added the silouhette figures. I know you might say it looks different but I had used a different section of the photo in the first cover. Here is the original photo for your perusal.
Also the title is far more striking – well I think so.
I would really value your opnions to the new cover  – If you have read the book, does the cover reflect the characters? If you havn't read the book, does the cover make you want to read it?
Have a superb and fabulous week
God bless
Save